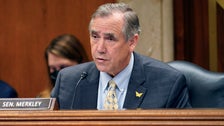 Sen. Jeff Merkley, a progressive Democrat from Oregon, on Monday called for Israel and the Palestinian militant group Hamas to cease their hostilities.
He is only the second member of the Senate to speak in favor of a cease-fire. Sen. Dick Durbin (D-Ill.) embraced the idea earlier this month, though he appeared to condition his support on the release of Israeli hostages held by Hamas.
In a lengthy statement affirming his horror at Hamas' Oct. 7 attack and the state of Israel's right to live in security, Merkley argued that Israel has not taken adequate measures to protect Palestinian civilians or limit humanitarian damage in Gaza. More than 12,000 Palestinians have died in Israel's invasion of the Gaza Strip, including 4,000 children, according to estimates by Gaza's health ministry, a part of the Hamas-run government that has provided accurate tallies in the past. And more than 1 million Gazans have evacuated the northern part of Gaza amid Israel's ground invasion, which has created still greater obstacles to accessing food, water, medical care and adequate shelter.
"After grimly witnessing accelerating body counts, many Americans, including thousands of Oregonians, have raised their voices to say more must be done to stop the carnage," he concluded. "I agree. So today I am calling for a cease-fire."
Israel maintains that it is bombing civilian infrastructure and housing only when those structures are being used by Hamas militants, and that the deaths of Palestinian civilians, while regrettable, are not intentional.
Merkley suggested that intentions do not matter as much when the scale of the destruction is so vast. "The impression the world has been left with is one of indiscriminate bombing," he said.
Addressing Israel's 56-year-long occupation of the West Bank and increasingly right-ward political turn, Merkley described his gradual realization that the country he first visited in 1978 was headed down a dark path that culminated in the current Israeli government's inclusion of far-right, Jewish supremacist parties.
"When I returned to Israel for the fifth time earlier this year, the pace of oppression had increased," he said.
"By waging a war that generates a shocking level of civilian carnage rather than a targeted campaign against Hamas, Israel is burning through its reserves of international support."

– Sen. Jeff Merkley (D-Ore.)
Throughout the statement, Merkley characterized himself as a disappointed friend, hoping to steer Israel toward a more enlightened view of its own self-interest. The current invasion of Gaza could threaten Israel's treaties with Arab nations, lead to a regional war, and leave Israel less safe, Merkley said.
"I believe that Israel, in its understandable rage, is also making a massive mistake," said Merkley, likening it to what he sees as the United States' overreaction following the Sept. 11, 2001, terror attacks. "By waging a war that generates a shocking level of civilian carnage rather than a targeted campaign against Hamas, Israel is burning through its reserves of international support. Too many civilians and too many children have died, and we must value each and every child equally whether they are Israeli or Palestinian."
Merkley is one of the most progressive members of the Senate Democratic Caucus. He routinely votes against the annual national defense spending bills, arguing that the Pentagon's budget is already excessive.
Still, his support for a cease-fire is notable because of how rare it is in the Senate. In the House, by contrast, Missouri Rep. Cori Bush's nonbinding resolution calling for a cease-fire has the support of 17 House Democrats.
Sens. Bernie Sanders (I-Vt.) and Elizabeth Warren (D-Mass.) ― along with Merkley, the most progressive three members of the Senate ― have called for "pauses" in fighting so that humanitarian aid can enter Gaza.
Given his history of outspokenness in defense of Palestinian human rights, Sanders' decision not to back a cease-fire of indefinite length has been a source of particular disappointment among leftists and other pro-Palestinian activists. In a CNN interview earlier this month, he questioned how a "permanent cease-fire" would be possible with Hamas considering the group's dedication to "turmoil and chaos and destroying the state of Israel." The American Israel Public Affairs Committee, the country's most powerful pro-Israel lobby and a longtime foe to Sanders, posted a clip of the interview approvingly.
President Joe Biden has likewise refused to entertain calls for a cease-fire, writing in an op-ed in The Washington Post that a prolonged break in the fighting would allow Hamas to re-arm.
He has encouraged Israel to pause fighting for several days to allow residents of Northern Gaza to flee, and eventually, enable the safe release of hostages. Thus far, Israel has only agreed to daily pauses in fighting that last four hours.