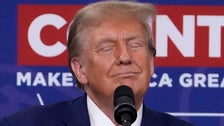 Donald Trump can't seem to stop talking about the allegations that he hired sex workers to perform a "golden showers" show at a Moscow hotel years ago.
While speaking at a rally in Iowa on Saturday, Trump recounted explaining the story to Melania Trump.
"You think that was good that night to go up and tell my wife, 'It's not true, darling. I love you very much. It's not true,'" the former president said.
Turns out, he needn't have worried.
"Actually that one she didn't believe because she said, 'He's a germaphobe, he's not into that, y'know?'" Trump recalled. "'He's not into golden showers,' as they say they called it. I don't like that idea."
A salacious and discredited dossier compiled by ex-British spy Christopher Steele claimed that Trump hired sex workers to pee on a hotel bed that had once been used by President Barack Obama and Michelle Obama, and that Russian agents had recorded the scene.
Trump has repeatedly denied the claim.
But he also keeps bringing it up, including at a rally last month, where he also mentioned the former first lady.
"How about going home to my wife on the shower, y'know? The golden shower, they called it," Trump said. "And I had to explain that to our great first lady… The golden shower was a problem for me."
Trump has also frequently pointed to his reputation as a germaphobe as a reason it can't be true ― even saying as much to James Comey, the FBI director at the time who informed Trump of the allegations.
"I'm a germaphobe," Trump told him, according to Comey's book. "There's no way I would let people pee on each other around me. No way."