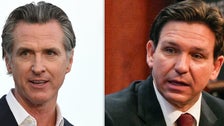 Fox News on Monday shared their plans for a debate between Democratic Gov. Gavin Newsom (Calif.) and Republican Gov. Ron DeSantis (Fla.) to be moderated by anchor Sean Hannity next week.
The event titled "DeSantis vs. Newsom: The Great Red vs. Blue State Debate" will be held in Alpharetta, Georgia, on Nov. 30. It will run for 90 minutes live on the network and Fox News Radio but won't feature a live audience, the network said.
"Focusing on the major issues impacting the country, the debate will examine the vastly different approaches the two governors have and offer insights into their political philosophies as well as ambitions for the nation," a press release states.
The debate will cover topics, including immigration, crime and inflation, they added.
The two governors have previously sparred several times on social media, most recently with Newsom calling out DeSantis over the six-week abortion ban the Republican governor signed into law in Florida and releasing an ad disputing the law.
DeSantis, once considered a favorite for the GOP 2024 presidential nomination, has dipped in the polls as former President Donald Trump has continued to solidify his place as the front-runner with former South Carolina Gov. Nikki Haley making gains in recent weeks.
Newsom has ruled himself out of the 2024 race despite speculation that he has ambition for higher office.
Sen. John Fetterman (D-Pa.) reportedly took a dig at Newsom earlier this month, suggesting the governor doesn't have the guts to outrightly say he intends to run for president.
While most Democrats don't make regular appearances on the conservative network, the California governor has previously made the case for members of his party to appear on Fox News.
"There are a lot of good folks that are watching, honestly, a lot of persuadable folks, I really believe that, not just the core base," Newsom told Semafor last month.