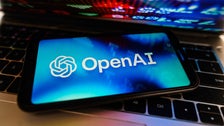 OpenAI executive Brad Lightcap addressed the recent news of CEO Sam Altman's firing from the company in a brief memo to employees on Saturday and provided some more transparency about the decision.
In the memo obtained by CNBC, Lightcap said Altman's firing on Friday "took everyone by surprise" and that multiple ongoing conversations are being held with the board to gain more information about the reasons behind the decision.
"We can say definitively that the board's decision was not made in response to malfeasance or anything related to our financial, business, safety, or security/privacy practices. This was a breakdown in communication between Sam and the board," he wrote.
Lightcap assured employees that the company remains in a strong position, adding that its partnership with Microsoft is unaffected by the leadership change. OpenAI has gained billions of dollars from Microsoft amid the growing interest in ChatGBT.
On Friday, OpenAI's board of directors announced Altman's shocking departure from the artificial intelligence research company he co-founded in 2015. In a statement, the board wrote that it "no longer has confidence in [Altman's] ability to continue leading OpenAI" following a review process that found he "was not consistently candid in his communications with the board."
Altman wrote on social media Friday: "i loved my time at openai. it was transformative for me personally, and hopefully the world a little bit. most of all i loved working with such talented people."
Mira Murati, the company's chief technology officer, would serve as interim CEO.
The board added that Greg Brockman was also stepping down as chair of the board but would remain at the company and report to the CEO. A few hours later, Brockman announced that he, too, would depart from the company "based on today's news."
The news of Altman's sudden departure from OpenAI came as a shock, and questions linger about what led to his firing.
In a social media post on Friday evening, Brockman wrote that he and Altman are "still trying to figure out exactly what happened" and provided a timeline of some events from that day.
OpenAI's board has not publicly shared additional information about Altman's firing since the announcement on Friday. In the memo on Saturday, Lightcap said that updates will be provided to employees as soon as possible.
"Mira has our full support as CEO. We still share your concerns about how the process has been handled, are working to resolve the situation, and will provide updates as we're able," Lightcap wrote in the memo.
"I'm sure you all are feeling confusion, sadness, and perhaps some fear. We are fully focused on handling this, pushing toward resolution and clarity, and getting back to work."