The Washington Post inaccurately reported that the United States brokered a deal to pause conflict between Israel and Hamas for five days to free women and children hostages in Gaza, but issued a correction after being called out by the White House National Security Council. 
On Saturday, the Washington Post published a story that claimed a tentative deal was reached that featured the headline, "Israel and Hamas reach tentative U.S.-brokered deal to pause conflict, free dozens of hostages." The paper cited "people familiar with the terms of the agreement" and reported the pause in fighting would be monitored by aerial surveillance. 
The Post then shared the story on social media, writing, "Israel and Hamas reach tentative U.S.-brokered deal to pause conflict for five days and free women and children hostages." 
White House National Security Council spokesperson Adrienne Watson quickly threw cold water on the report. She quoted it on X and explained, "We have not reached a deal yet, but we continue to work hard to get to a deal."
JON LOVITZ KNOCKS 'IDIOT' JOHN OLIVER PANICKING OVER US AID TO ISRAEL: HE'S 'SHOCKED' AMERICA SUPPORTS AN ALLY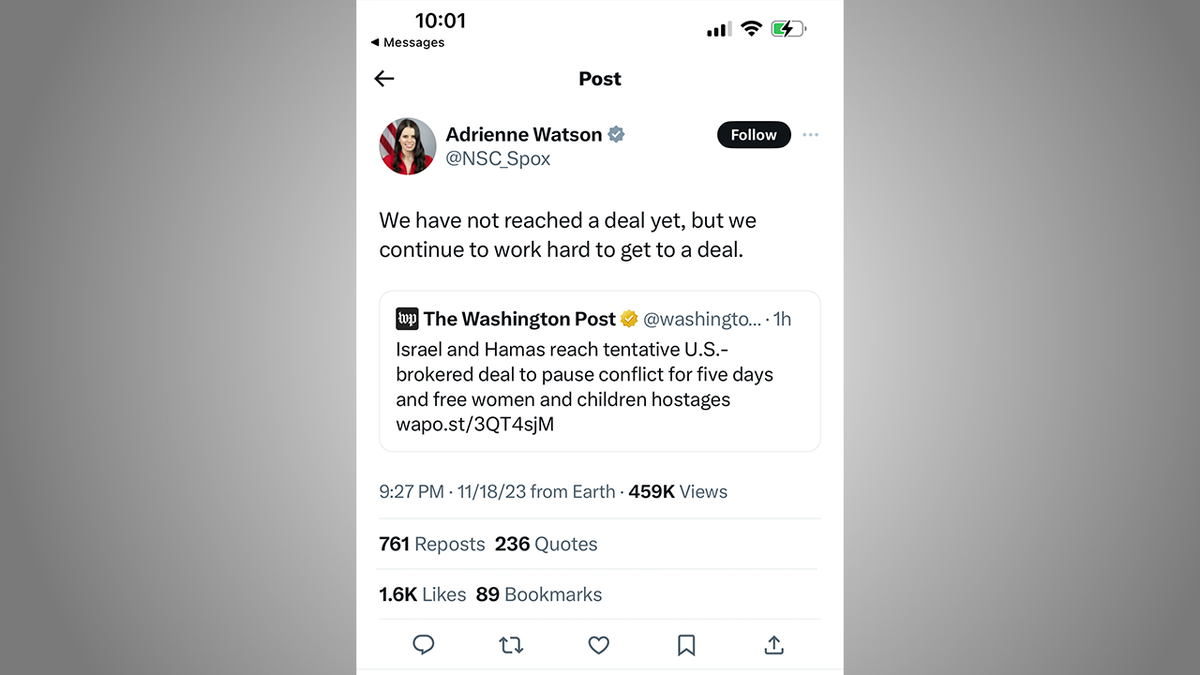 The Post then deleted the tweet promoting the inaccurate report and issued a correction to the online story.
"A previous version of this article, headline and accompanying news alert incorrectly characterized The Post's reporting about the status of negotiations among Israel, Hamas and the United States to pause conflict for five days and free women and children held hostage in Gaza. The article stated that the parties had agreed to a tentative deal. In fact, Israel and Hamas were close to a U.S.-brokered agreement. The article has been corrected," the Post wrote. 
The Post declined additional comment when reached by Fox News Digital.
Mark Regev, a senior adviser to Israeli Prime Minister Benjamin Netanyahu, said the likelihood of reaching a deal with Hamas to release hostages "has gone up" in recent weeks. 
LA TIMES EDITORIAL BOARD DEMANDS BIDEN ADMINISTRATION PUSH FOR CEASE-FIRE IN ISRAEL-HAMAS WAR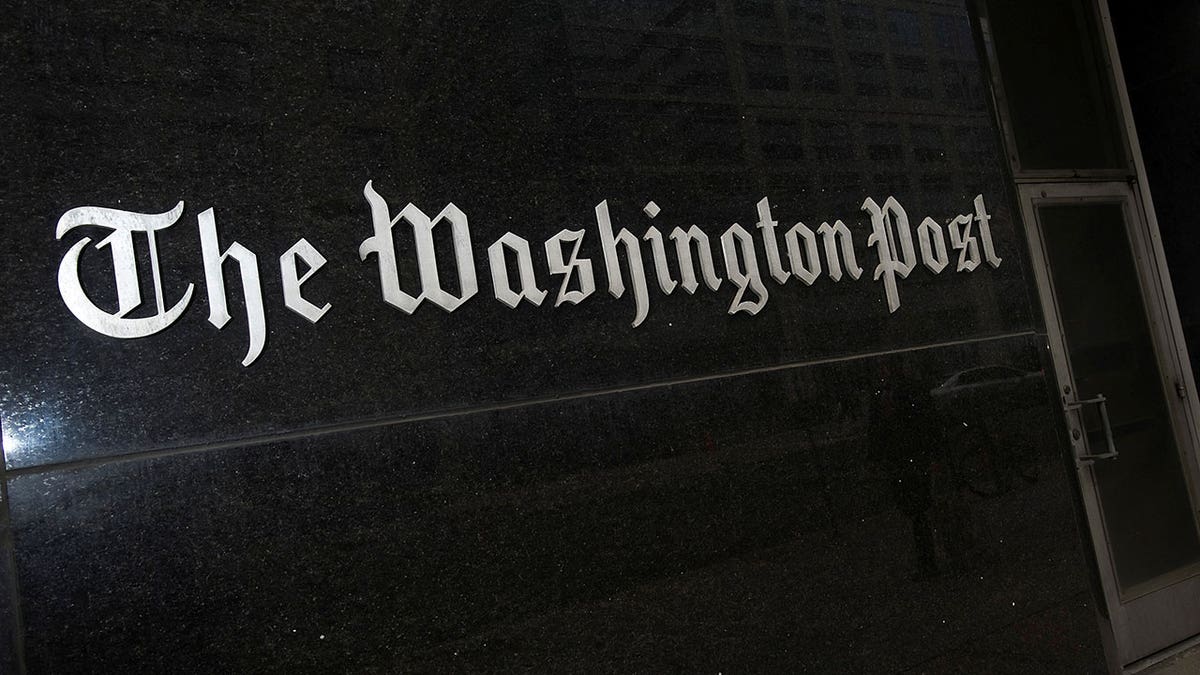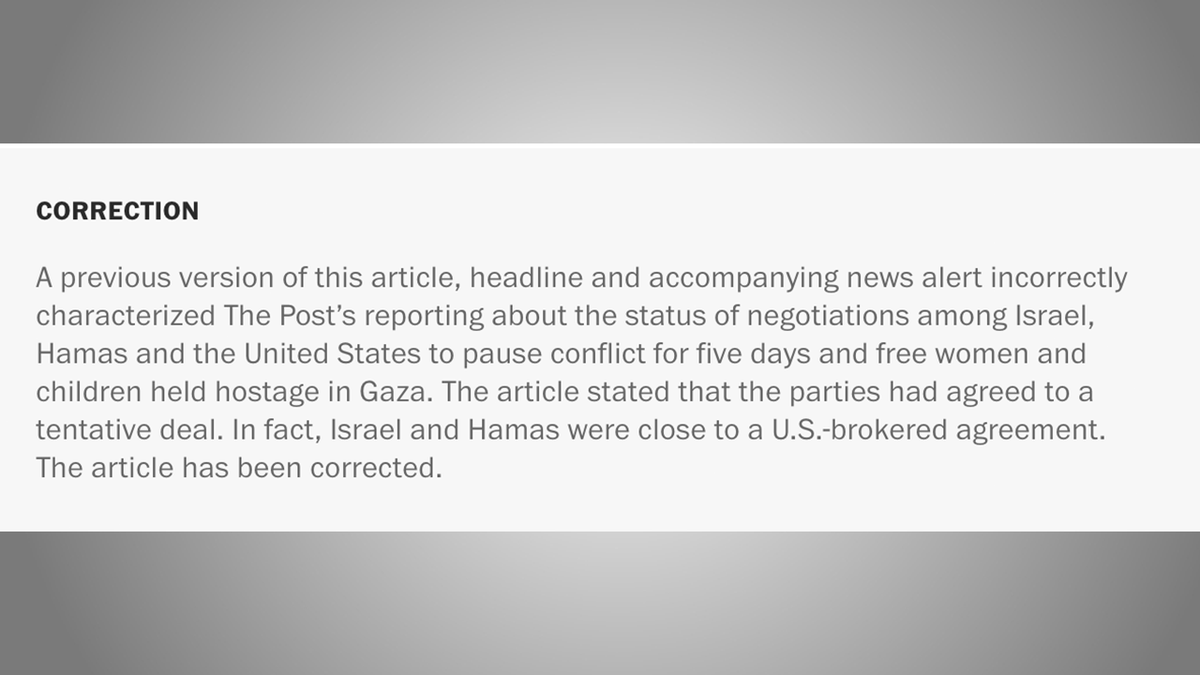 Regev told "FOX & Friends" on Monday that the past six weeks of fighting have been devastating for Hamas, and that the terrorist group "needs" a reprieve. He said Israel may be willing to pause fighting if Hamas releases a "significant" number of hostages.
Regev and U.S. officials have warned that no deal has been hammered out yet. However, Israel says there remain nearly 240 hostages in Hamas custody, though the U.S. has cautioned it is impossible to know how many of those remain alive.
Fox News' Anders Hagstrom contributed to this report. 
CLICK HERE TO GET THE FOX NEWS APP
For more Culture, Media, Education, Opinion, and channel coverage, visit foxnews.com/media.