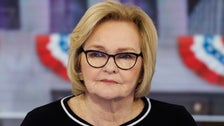 Former Sen. Claire McCaskill (D-Mo.) suggested President Joe Biden is being underestimated, but said it still alarms her that so many poll respondents are willing to say "out loud" that they would vote for Donald Trump.
On "Morning Joe" Monday, the MSNBC political analyst weighed in on a new NBC News poll that showed the former president leading President Joe Biden by 2% in a hypothetical matchup.
Host Joe Scarborough dismissed the result with a "yawn" and criticized Democrats for catastrophizing, noting that polls proved unreliable in 2020.
McCaskill said it's the story of Biden's career to be underestimated.
However, she argued, "There's one thing these polls are good for, and that is making sure that nobody in the Biden campaign takes any segment of our votes for granted."
She called on the campaign to improve its messaging to Black and brown voters and young people, to highlight what's at stake on hot button issues such as abortion, gun control, LGBTQ+ rights, climate change and book bans.
But there was one difficult thing that she said "we have to admit."
"We see Donald Trump as so completely unacceptable — a mentally deranged, narcissistic, dangerous, horrible man that only knows selfishness," she said.
"The idea that anybody would be voting for him freaks all of us out. So the fact that there are this many that are saying it out loud to somebody, even though it is anonymously, is enough to just make your stomach hurt."
Trump has been indicted on a total of 91 felony counts across four criminal indictments since March. He was also found liable in two separate civil cases this year. In May, he was found by a New York jury to have raped writer E. Jean Carroll in 1996. In September, a judge ruled that he had committed fraud for years while running his real estate empire in the state.
NBC News' latest poll, released Sunday, found Biden trailing Trump for the first time, receiving 44% and 46% of support respectively, due to a dip in support for Biden.