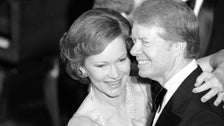 Georgia leaders and former presidents expressed their appreciation for former First Lady Rosalynn Carter and her service after the news of her death broke Sunday.
Politicians and activists remembered her for her public service, including her work with Habitat for Humanity and her mental health advocacy.
Former President Bill Clinton and former Secretary Hillary Clinton said in a statement that Carter was a "compassionate and committed champion of human dignity everywhere."
"Throughout her long, remarkable life, she was an unwavering voice for the overlooked and underrepresented," the statement reads. "Thanks to her mental health advocacy, more people live with better care and less stigma. Because of her early leadership on childhood immunization, millions of Americans have grown up healthier. And through her decades of work at the Carter Center and with Habitat for Humanity, she spread hope, health, and democracy across the globe."
Stacey Abrams, a voting rights activist who ran for Georgia governor in 2018 and 2022, wrote on X that her "deepest condolences" go to former President Jimmy Carter during his mourning.
"With every moment, Rosalynn Carter showed the world the resilience of the human spirit. We thank her for serving the least of these + for giving mental health a voice in a damning silence," Abrams wrote.
Sen. Jon Ossoff (D-Ga.) said in a statement that Rosalynn Carter's public service "changed the lives of many."
"Among her many accomplishments, Rosalynn Carter will be remembered for her compassionate nature and her passion for women's rights, human rights, and mental health reform," the statement reads. "The State of Georgia and the United States are better places because of Rosalynn Carter. I join all Georgians and Americans in mourning her loss. May Rosalynn Carter's memory be a blessing."
Sen. Cory Booker (D-N.J.) shared a picture on X with the Carters and wrote that Rosalynn Carter "dedicated herself to serving others."
"As First Lady she served our country with grace and kindness," Booker wrote. "My heart is with her love of over 75 years, President Carter and their family today."
Bernice King, Martin Luther King Jr.'s daughter, also shared a photo of her and Rosalynn Carter.
"Today, we mourn the loss of a remarkable woman and dear friend of the King family and The King Center, former First Lady," King wrote.
Sen. Chuck Schumer (D-N.Y.) wrote on X that Rosalynn Carter "dedicated her life to serving others."
"America has lost a passionate humanitarian and champion for people all over the world," he wrote. "My heart goes out to her entire family."
Former President Donald Trump and former First Lady Melania Trump released a statement calling Rosalynn Carter a "devoted First Lady, a great humanitarian," and "a champion for mental health."
"Over a life spanning nearly a century, Rosalynn Carter earned the admiration and gratitude of our entire nation," the statement reads. "From her days as a U.S. Navy spouse, to the Georgia Governor's Mansion, to her tenure as First Lady of the United States, and her later work at the Carter Center and volunteering with Habitat for Humanity, she leaves behind a legacy of extraordinary accomplishment and national service."