HuffPost and its publishing partners may receive a commission from some purchases made via links on this page. Every item is independently curated by the HuffPost Shopping team. Prices and availability are subject to change.
Now that I've owned a Tineco iFloor 3 Breeze Complete vacuum mop for a while (I believe that's technically Tineco's Floor ONE S3 vacuum mop in the TikTok above, but they are similar models of essentially the same machine), I can confidently say it's worth the money — and both models are currently on big-time sale right now in a Black Friday deal at Amazon, so it's a great time to snatch one up. In fact, the iFloor 3 Breeze Complete is even cheaper than it was during Amazon Prime Day.
Here's how the Tineco vacuum mop works: There's a clean water tank and a dirty water tank, and the machine vacuums as a mop roller head uses the clean water to scrub and polish your floor (you can add cleaner if you want, and the Breeze comes with two free bottles of it). The vacuum not only hoovers up dirt, but also sucks up the dirty water left from the mopping process. This is a huge advantage over most wiping robot mops, which scrub well enough but don't actually remove dirty water.
In fact, I was downright alarmed to discover how disgusting my dirty tank became as I cleaned, considering that I do regularly mop my floors and I don't even have kids or pets tracking dirt around. What I'm about to show is you is one of my greatest shames, but also proof of how well this thing works: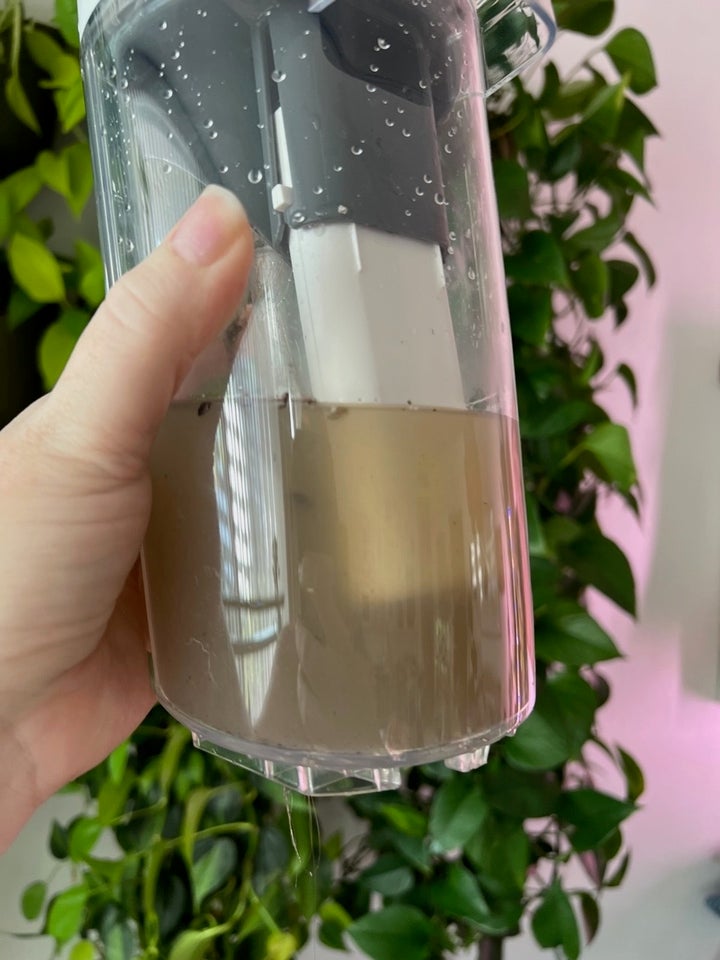 I'm now determined to live so that my dirty water tank is merely a slight parchment color, rather than this horrifying SOS. But the Tineco's mopping is clearly effective, and I was also shocked at how lightweight and maneuverable it is. The self-propelling feature means it's very easy for most people to use; it never makes my wrist ache or feels heavy to guide around. And although you do need to rinse certain parts after each use, that isn't laborious or difficult, either (it takes about one whole minute). The Tineco even performs a self-cleaning process on the mop head. I was extremely skeptical about that part of the process, but it left the roller looking like it'd never even been used before.
I consider myself a robot mop and vac aficionado, and I was impressed. While this machine may not polish like the sort of professional-grade floor cleaner an industrial custodian might use, or get down into grout lines like a traditional stringy mop, it is effective and clearly great for regular or daily use. Its cordless design and lightweight maneuverability mean mopping doesn't even feel like a chore, anyway. It's actually pretty fun (I now think of it as my ongoing Dirty Water Tank Challenge). Tineco does offer more expensive and feature-packed models, but the iFloor Breeze 3 has a run time of about 20 minutes per charge, and I found I could clean all my hard floors before I needed to plug the Breeze back in. Paying more wasn't worth it for my needs, though you can also grab the Floor ONE S3 that has a runtime of 35 minutes.
We haven't seen a list price this low all year, so grab one on deep discount before this Black Friday deal ends.